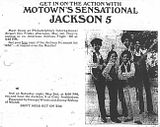 On May 2, 1970, the Jackson 5 appeared in their first official concert as Motown headliners. They performed at the Civic Auditorium in Philadelphia, Pennsylvania. To promote their new group, Motown took out an ad in the local Black newspaper, announcing not only the concert, but the time of their incoming flight. The mob scene of screaming fans waiting at the airport surprised everyone.
Here's a photo of Michael sleeping on the plane on his way to Philadelphia, unknowingly enjoying his last few minutes of being a regular kid before instant super-stardom would hit.
Motown sent a camera crew along to film their arrival at the airport and their concert, so they could create a short promotional film for booking agents. The footage shows the group
rehearsing for the concert
with Suzanne DePasse, and has a voice over by Suzanne's cousin, Tony Jones, who was put in charge of promoting the J5. Portions of the footage were recycled a year later in their
Goin' Back to Indiana
special, and their May 1970 reception of screaming fans at the Philadephia airport can be seen in
the first minute of this clip
from the 1971 special.
Backstage the Jackson 5, along with drummer Johnny Jackson, Ronnie Rancifer, posed for a photo with Motown publicist Weldon McDougal and his young son. And then they hit the stage. The promotional video Motown made included
a live performance
from the concert of a cover version of Sly and the Family Stone's "Thank You Fallettin Me Be Mice Elf Agin" which included a hilarious intro of the individual group members and the J5's long-time signature acappella "Thank You" to the audience. Michael's showmanship is amazing, and there are times when he clearly seems to be channeling James Brown with the way he chats up the audience. As an interesting side note, Michael's future biographer, J. Randy Taraborelli, attended this concert as a teenager.
The footage is great, but nothing beats this still photo of Michael, belting it out.